Miss March 2014 sports a Miley Cyrus style mohawk.
Posted by Sex and Love editor on
Sun, Feb 23, 2014

at

11:01 AM

Playboy serves as a cultural barometer for beauty trends. A surprising number of scholarly studies have tracked the changing measurements, ages, and races of Playmates as a way of studying societal shifts in what we consider beautiful. While the gentlemen's magazine has broken many cultural barriers, such as featuring African American models during the height of the race wars, Playboy tends to pick Playmates who embody more conservative hallmarks of beauty. In general, most Playmates could be described as curvy fashion models—Victoria Secret-types as opposed to waif-thin runway models. Despite the recent popularity of tattoos and piercings, Playboy rarely features women who have anything more extreme than a naval piercing or a tattoo that is much larger than a sticker. So, when a Playmate diverges from the mold, the public takes notice.

The March 2014 Playmate, Linn Britt, 23, is the first Playmate in 15 years to have short hair. Perhaps even more surprising is Britt's style of shorthair: she has a mohawk with the sides of her head shaved.

This feminine mohawk has been popularized in recent years by the likes of Rihanna and Miley Cyrus, though it was embraced before these pop icons in the underground circles of adult entertainment by Skin Diamond, Christy Mack, and Joslyn James. Even before that, it was a staple of the grunge rock movement of the 90s and the punk scene of the 80s. In and of itself, the hairstyle is nothing new. What is new is Playboy's acceptance of such a seemingly edgy look.

Time will tell what this gesture signifies, if anything. Will the hairstyle be accepted in more mainstream circles? Will the feminine mohawk lose popularity among alternative subcultures? Or, will Playboy be open to more alternative forms of beauty when considering Playmates?

411mania Inteview: Playboy's Miss March Britt Linn

Posted by Steve Gustafson on 03.08.2014

New Jersey-born fashion model Britt Linn is Playboy's March 2014 Playmate of the Month and the magazine's first short-haired Playmate in more than 15 years (issue on newsstands and iPlayboy.com now, with additional photos available atwww.playboy.com/brittlinn).Just one year ago, Britt was working as a surgical technologist when a New York model scout found her on Facebook. "I started modeling in September during Mercedes-Benz Fashion Week, and bam," she says, "I've been flying by the seat of my pants ever since!" After snagging shoots for Seventeen and Diesel, she booked her Playboy Centerfold and a Vogue Italia editorial on the same day. "I burst into tears of happiness," Britt says. "I'm pretty competitive, and I thought it's be cool to be slender enough for high fashion but also curvy enough for Playboy. And I did it!"

As a rising star in the fashion world with a sexy, punk-rock vibe, Miss March describes herself as an approachable "goofball" who likes shooting pool with the boys, throwing back shots of Jack Daniel's and mellowing out to singer-songwriter Ray LaMontagne.
Credit Josh Ryan for Playboy
Steve Gustafson:
Hi Britt! First, congratulations on being Playboy's Miss March!! Thanks for taking a few minutes to answer some questions for 411mania.com! I read that just one year ago, you were working as a surgical technologist. Can you tell us about how you got involved with Playboy?
Britt Linn: I got involved with Playboy through Instagram. I was following Josh Ryan, a Playboy photographer, on Instagram and noticed a picture he posted with the caption "Bunny Hunting". I decided to write a comment on the picture, "Its about time Playboy had a short haired Playmate." The following week I was in Los Angeles for a test shoot, when I was told I would be Miss March!
Steve Gustafson: Wow! That's pretty awesome and sure to inspire plenty of girls. How was the photoshoot? Were you nervous? Excited?
Britt Linn: The photoshoot was amazing! It took place in the desert of southern California. I was so excited and really had an amazing set to work on; motorcycles, vintage hotel rooms and an old Chevy truck were all included!
Steve Gustafson: The shoot looked great and had a real cool vibe to it. When you learned that you were going to be Miss March, who was the first person you called?
Britt Linn: When I learned I was going to be Miss March I called my husband crying! I had found out just a few hours earlier that I was going to be in Italian Vogue as well, so the entire day was really overwhelming! I was ecstatic.
Steve Gustafson: Whoa! That's a powerful one-two punch! So, how has your life changed since since becoming Miss March?
Britt Linn: I do live in New York, modeling fashion, so my life hasn't changed much, but I have a feeling when I go out to Los Angeles it will. I can say though that I've been doing a lot of fun interviews and some random people have definitely come out of the woodwork and want to know how I am doing as of late.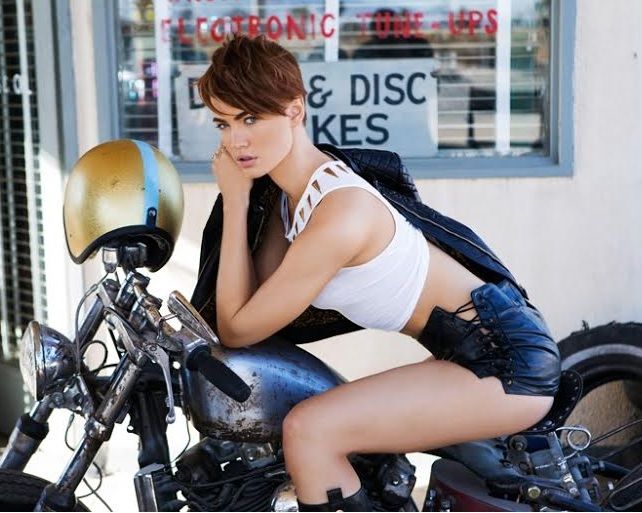 Credit Josh Ryan for Playboy
Steve Gustafson:
I'm sure. What does Miss March like to do for fun and unwind?
Britt Linn: I really am a homebody. I love coming home to my puppy and reading a good book with a glass of wine. After a hectic day in the city, home is the only place I want to be.
Steve Gustafson: Nice. OK, since we cover Movies and TV shows here at 411mania, I have to ask you some related questions. I know you're busy but do you have any TV shows that you must watch?
Britt Linn: I really love the show New Girl. Zooey Deschanel is so witty and unassuming. I absolutely love her one-liners in response to her roommate on New Girl; she gets me every time.
Steve Gustafson: Very cool. What about going out to the movies? Some of your favorites?
Britt Linn: I do love going to the movies; I think there's something so cool about sitting down in a quiet room with strangers to experience the same thing together. I really enjoy watching historical movies, fictional and nonfictional alike. I recently went to see Pompeii and though there were a few unlikely scenes, but it was a really great way to experience a piece of history the way the creative team believes it may have happened.
Steve Gustafson: Well said. What's next? Goals for 2013?
Britt Linn: I'm hoping that 2014 will be a really busy year for me. I signed to my modeling agency last August and things really took off within a few months: I would really love to keep that momentum going and capitalize on any opportunities that may present themselves through Playboy as well as through fashion. I think 2014 may be the year I begin delving into the movie industry as well.
Steve Gustafson: I'll definitely keep an eye out for you! What's the best way for fans to keep up-to-date on your career?
Britt Linn: I have a twitter account @missbrittlinn, but I must say I am much better at using Instagram; its become a slight addiction. My Instagram name is also @Missbrittlinn, as well as my Facebook, which I update regularly.
Steve Gustafson: Awesome. Alright, that's it! Thanks again and all the best to you!
Britt Linn: Thank you so much for the opportunity to answer a few questions!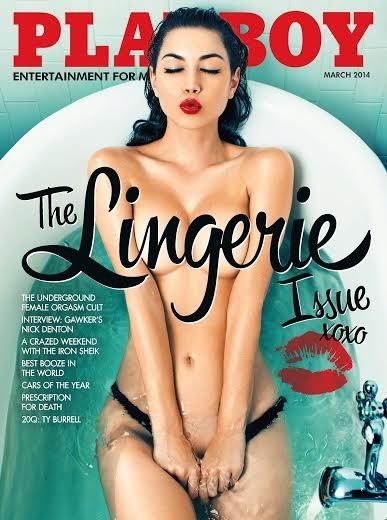 Credit Michael Bernard for Playboy.
Britt Linn, formerly of Wantage, is Playboy magazine's 'Miss March'. A modeling agent discovered her on Facebook.
Playboy TV takes you behind the scenes on the shoot of Britt Linn, Miss March 2014.

Click Here for Playboy Playmate Fan Club Website